Sergio Garcia Leads WGC, Breaks Back 9 Record
---
---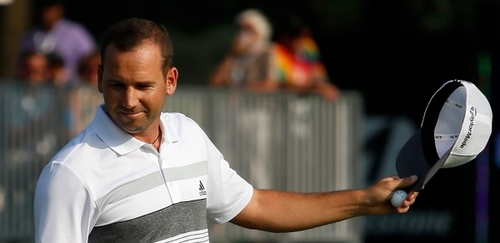 AKRON, Ohio -- Sergio Garcia doesn't know anything about being in a zone. He had no trouble identifying the best round of his career.
Garcia one-putted the final 11 holes and made birdies on his last seven holes Friday in theBridgestone Invitational to tie the course record at Firestone with a 9-under 61 and take a three-shot lead into the weekend.
He had a birdie putt on every hole on the back nine, missing only a 15-footer from the fringe at No. 11. Garcia shot 27 on the back nine, a course record.
''Just one of those moments that you love and you enjoy, and you wish there were no end,'' he said.
It matched the tournament record held by Tiger Woods, who shot 61 in 2000 and 2013, andJose Maria Olazabal, who shot his 61 in 1990. Woods went on to win by 11 shots in 2000 and seven shots last year. Olazabal won by 12 in the World Series of Golf.
Garcia still has work to do.
He was at 11-under 129, three shots clear of Justin Rose, who had a 67. British Open championRory McIlroy birdied his last two holes for a 64 and joined Marc Leishman of Australia (67) four shots out of the lead.
---
WGC-Bridgestone Invitational: Articles, videos and photos
---
McIlroy played in the group behind Garcia, and could hear what was going on if he couldn't see it.
''Every time I looked, he was putting a ball in the hole and the crowd was cheering,'' McIlroy said. ''I knew that he was making a few birdies.''
Garcia was five shots out of the lead when he had to scramble to save pars on back-to-back holes to close out the front nine on what seemed to be an ordinary round. Two good swings on the 10th hole led to a 20-foot birdie putt. He hit 8-iron to 2 feet on No. 12 and 3 feet on No. 13 for the easiest birdies he had all day, and those turned out to be the start of his big run.
The Spaniard finished in style, making birdie putts of 15, 25 and 20 feet on his last three holes.
It reminded Garcia of the Travelers Championships earlier this summer, when Kevin Streelmanclosed with seven straight birdies to beat Garcia and K.J. Choi by one shot.
''When I made the one on 17 I thought, 'This kind of looks familiar from what happened not too long ago,''' Garcia said. ''Obviously, Sunday would be even nicer. But I'll take what I can get.''
His previous best score was a 62 on three other occasions - as a 19-year-old at the Scottish Open and Byron Nelson Classic in 1999, and at Mount Juliet in 2002 at the American Express Championship.
Woods also shot his 61s at Firestone in the second round. He could have used something remotely close to that to stay in range of Garcia. Instead, Woods hit only four fairways off the tee and couldn't seem to make anything on the green. It added to a 71, leaving him 10 shots behind.
''I didn't hit the ball well. I didn't putt well. I didn't do anything well,'' Woods said. ''The only thing I did well was I fought hard. Grinded hard. Unfortunately, it wasn't a very good day.''
Starting times for the third round were moved up to Saturday morning, with threesomes off both tees, because of a forecast for storms. That figures to only keep Firestone soft, allowing players to attack the pins provided they're in the short grass.
Rose missed only two greens in posting a 67 as his momentum builds toward the final major of the year next week at the PGA Championship. He wouldn't mind adding a WGC title this week. Either way, there is a long stretch of big tournaments, and Rose is headed in the right direction. He won back-to-back starts at Congressional and Royal Aberdeen before stalling slightly at the British Open.
For the full article CLICK HERE
---