FootJoy Releases DNA Shoe for Women
---
---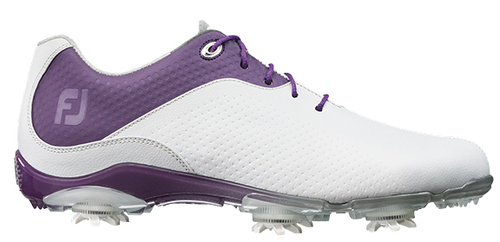 FEEL ADVANCED - FootJoy Introduces New D.N.A. Footwear Category for Women

- FJ's Most Feature-Laden Golf Shoe Ever -

(Newmarket, ON) - From FootJoy, the #1 Shoe in Golf, comes the next advancement in women's golf footwear - D.N.A. DryJoys Next Advancement. Featuring the most comprehensive feature package ever delivered by FJ, D.N.A. footwear embodies the most proven elements of the world-renown DryJoys franchise with new, cutting-edge componentry and construction methodology.

"To create the FJ D.N.A. golf shoe for female golfers, we began with all of the components and materials that made the men's shoe such a tremendous success and refined them to better support the distinct fit, comfort and performance characteristics required in the women's game," said Doug Robinson, Vice President of Design and Development Worldwide. "Every detail was carefully reconsidered in order to deliver a women's shoe with lightweight stability, a precise fit, superior feel and ultimate performance."

KEY FEATURES AND BENEFITS

· The 3D FoamCollar™ for COMFORT
The 3D FoamCollar molds to your ankle for ideal comfort, fit and support. Locking your ankle in place eliminates any movement of the foot – a situation that can lead to discomfort and power-reduction during the swing.

· SnugFit Tongue for FIT
The SnugFit tongue is engineered utilizing thin, soft, and breathable materials - including MicroVent™ technology- in order to properly conform to the top of your foot providing superb fit and an incredibly comfortable in-shoe environment.

· NitroThin™ TPU Outsole for STABILITY
The all-new NitroThin TPU outsole has been in development for several years, undergoing numerous rounds of testing and technical modifications. The result is a super thin-yet-strong chassis that frames the soft, FTF internal midsole, delivering the perfect combination of rigidity and flexibility for maximum on-course performance.

· Xtra-Thick FTF™ FitBed® for CUSHIONING
In order to achieve the sleek, low-profile look of D.N.A. , the midsole was moved inside the shoe. FTF™ (Fine-Tuned Foam), a new proprietary cushioning material, is used throughout the interior midsole, also known as the FitBed. In order to achieve in-shoe stability as well as premium cushioning, two densities of FTF were utilized - a firmer density for stability around the perimeter of the FitBed and a softer density in the heel and forefoot providing industry-leading in-shoe comfort.

· ChromoSkin™ Leather System by Pittards®
Finally, D.N.A. DryJoys Next Advancement features the all-new ChromoSkin Leather System by Pittards of England, one of the premiere suppliers of high performance leather in the world. This unique full grain leather system is supple, lightweight, thin-yet-durable and completely waterproof. By using this premium leather, the wearer will experience tremendous breathability and will find the upper will conform to their feet for an incredible custom fit.


AVAILABILITY: September 22, 2014

COLOR WAYS: white/purple, white/black, white/bronze, and white/silver featuring the BOA Lacing System.
---